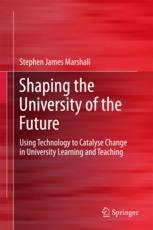 Shaping the University of the Future
Using Technology to Catalyse Change in University Learning and Teaching. Singapore: Springer Singapore.
DOI: 10.1007/978-981-10-7620-6.
Professor Stephen Marshall is Director of the Victoria University of Wellington Centre for Academic Development and Former President of the Australasian Council on Open and Distance Education. Stephen leads the Victoria University Digital Vision and Strategy for Learning and Teaching initiatives and works to ensure staff and students at Victoria are well-supported in learning and teaching enhanced and enabled through digital technologies.

Stephen researches in the areas of organisational change in higher and tertiary education, e-learning benchmarking, plagiarism and academic integrity, intellectual property and the of development of policy and strategy to support and encourage the effective use of technology. His e-learning maturity model (eMM) work has been adopted internationally and is used to guide e-learning improvement initiatives in New Zealand, Australia, the UK and the USA. He actively reviews papers for a wide variety of e-learning and academic development journals and conferences and is an associate editor for the Australasian Journal of Educational Technology, and co-editor for Higher Education Research and Development, the two top ranked Australasian journals in e-learning and higher education respectively.

Stephen is a reviewer for the NZ Treasury Gateway Review process and has worked as an auditor for the Australian Universities Quality Agency, and the New Zealand ITPQ. Stephen is also a faculty member for the biannual ACODE Learning Technology Leadership Institute.
Intellectual Property Statement

The eMM and associated documentation is licensed under a Creative Commons Attribution-ShareAlike 2.5 License. Please contact the author for details of preferred citation and acknowledgment wording. The report of the New Zealand evaluation (Marshall, 2005) and 2005 TeLRF project (Marshall, 2006) are copyright and published with the permission of the New Zealand Ministry of Education.